HAPPY TRAILS ONE - NOVEMBER 2023
18"X24"
Stretcher bars, back pack and adhesive
+++
HAPPY TRAILS TWO - NOVEMBER 2023
18"X20"
Stretcher bars, backpack
+++
HAPPY TRAILS 3 - NOVEMBER 2023
14"X36"
Home decor sign, back pack, expanding spray foam, ceramic owl plate, shoe laces, measuring tape, ribbon, climbing grip, rhinestones, feathers, mesh, pom pom, chain, toy glasses, soap dish, shoe lace, rick rack, buttons, 'Student Driver' magnet
+++
I CHOOSE YOU - OCTOBER 2023
APPROXIMATELY 24" X 36"
Mirrors, magnifying glasses, marine ropes, marbles, stickers, beads, yarn, tassels, clear vinyl, rhinestones, embroidery
+++
REDUX - NOVEMBER 2023
APPROXIMATELY 8X10"
Home decor signs, part of a letter sorter, toy plastic demitasse coffee maker, doll hair, shoe laces, rope, yarn, beads, ribbon, clothing parts, confetti, fake flowers, silver vinyl, embroidery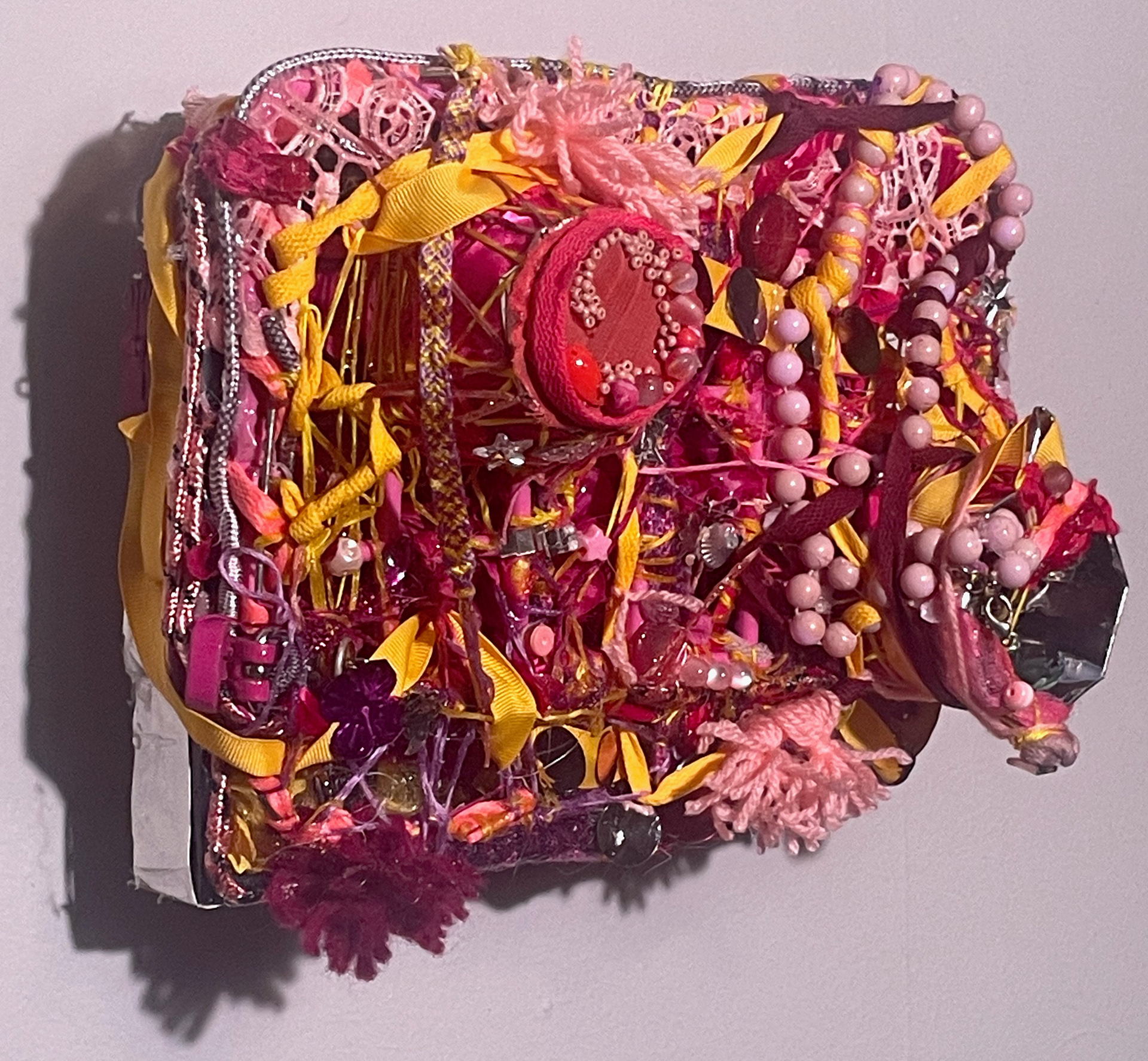 +++
NO MANS LAND - NOVEMBER 2023
30" X 23"
Half a suitcase, sink caddy, lunch tray, gold plastic plates, beaded necklaces, marine ropes, beads, embroidery, belt, sheer embroidered fabric, ribbon, buttons, acrylic paint 
+++
THE HEART WANTS  |. NO LIE |   WELL WRITTEN  | EVEN THE BAD TIMES - 6-7" SQUARE
NOVEMBER 2023
Home decor signs, paint marker, beads, confetti, buttons, screws, wrenches, rings, jewelry parts, back pack parts, mirrors
+++
GREEN SALSA - MAY 2023
20" X 9"
Cardboard, wood frame, colored pencil, acrylic paint, beads, buttons, puff paint, various adhesives
+++
AMERICAN EXCEPTIONALISM
AUGUST 2023
+++
IT'S COMPLICATED (BETWEEN US) - AUGUST 2022
Site specific light installation at The Good Supply, Pemaquid, Maine. 
Antique chandeliers, marine debris, clothing, fabric, wool, extension cord, hose, ribbon, embroidery, fabric paint, paper, tule, puff paint, foam insulation off-cuts, t-shirt strips, lazy susan, wood, zip ties, tassels, emergency blankets, plants, painting lights, LED lights, rope light and glow-in-the-dark rope.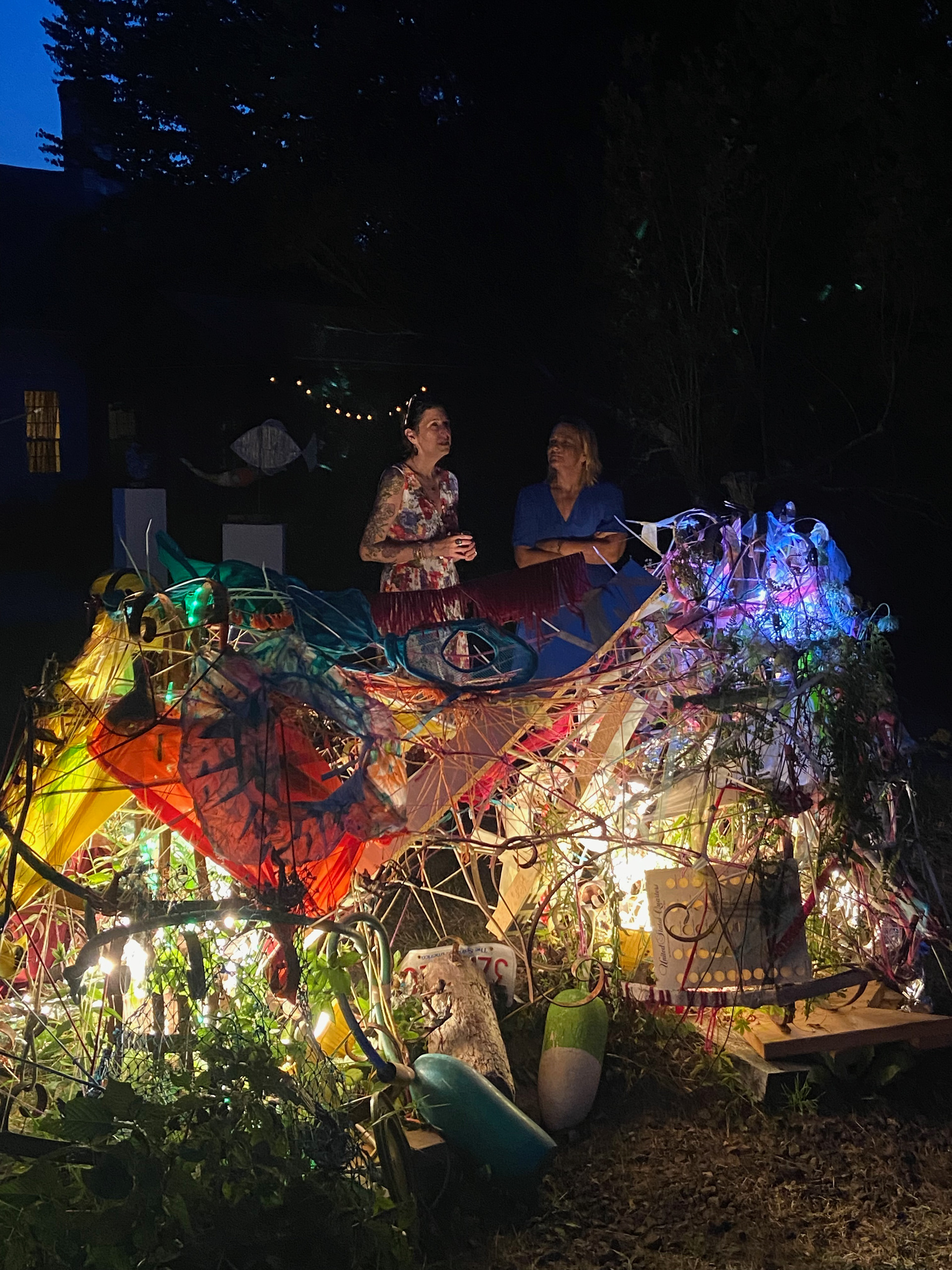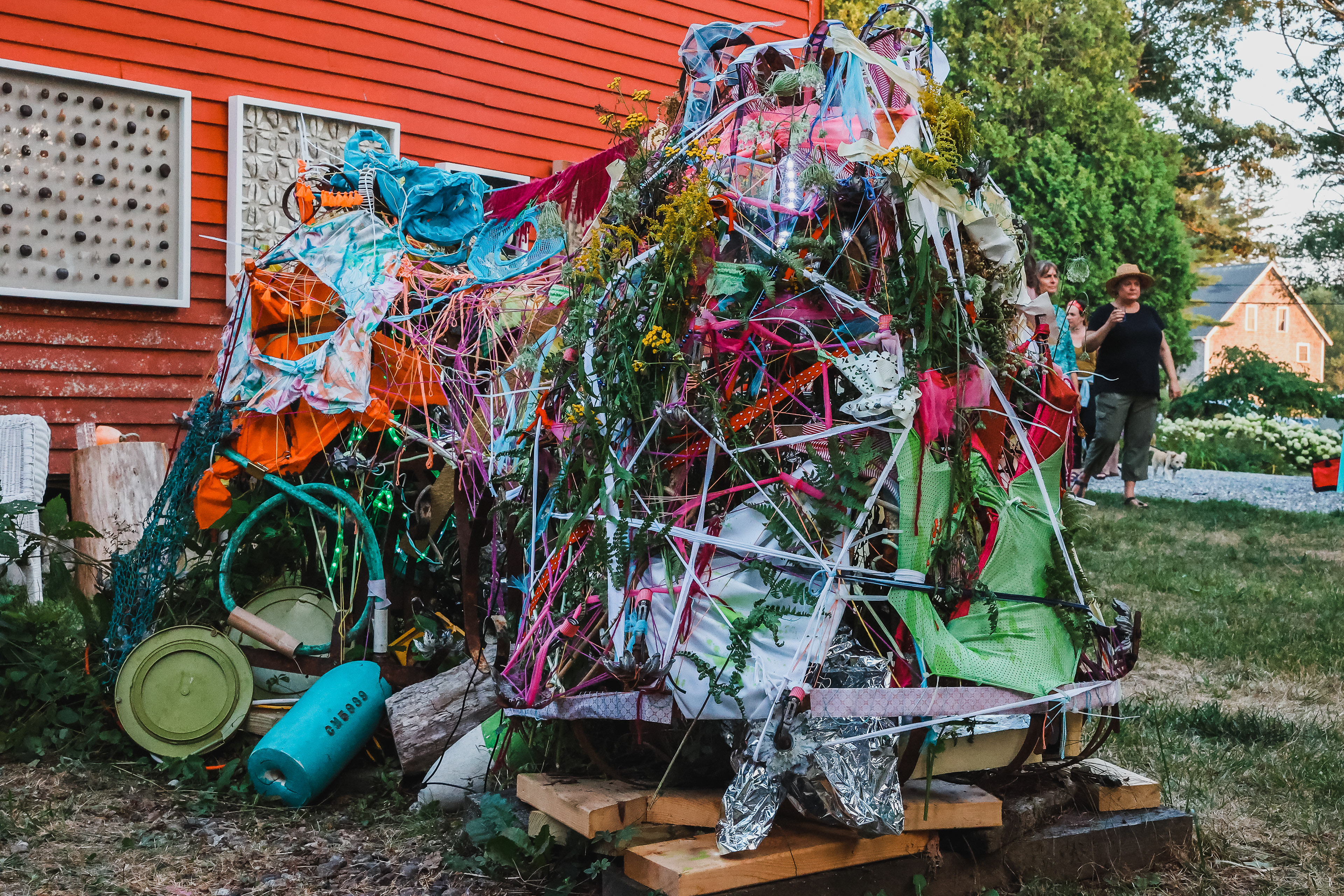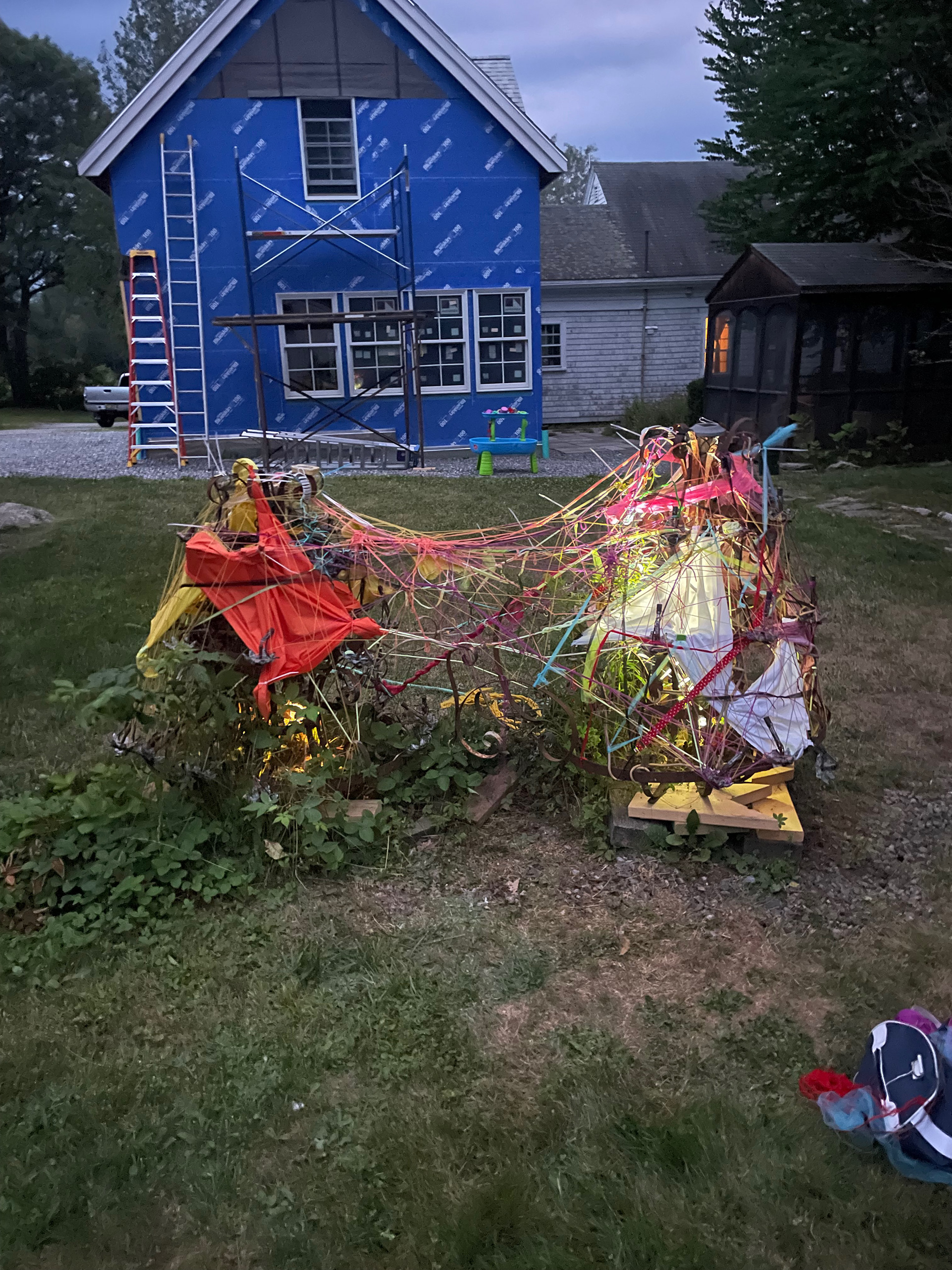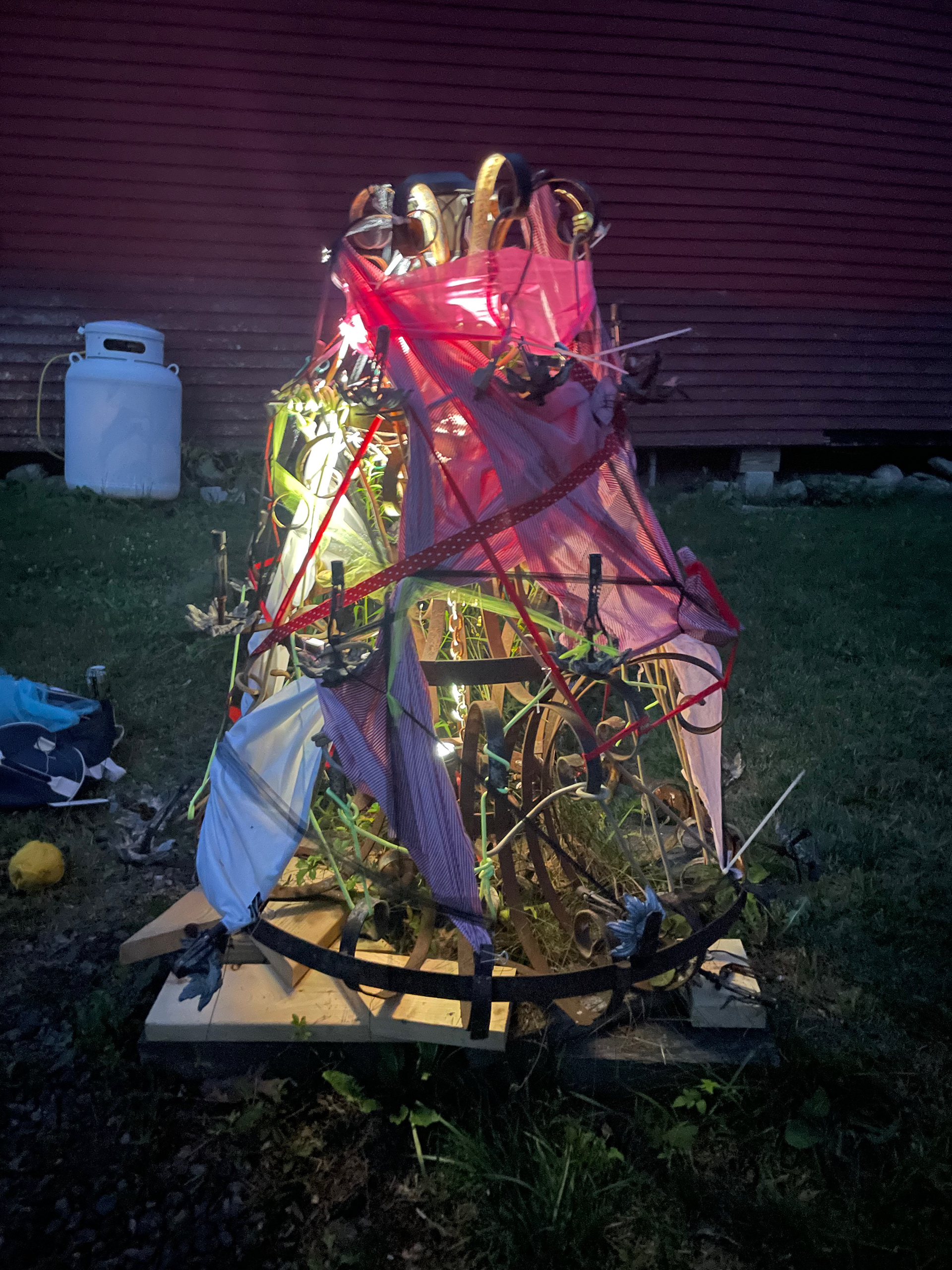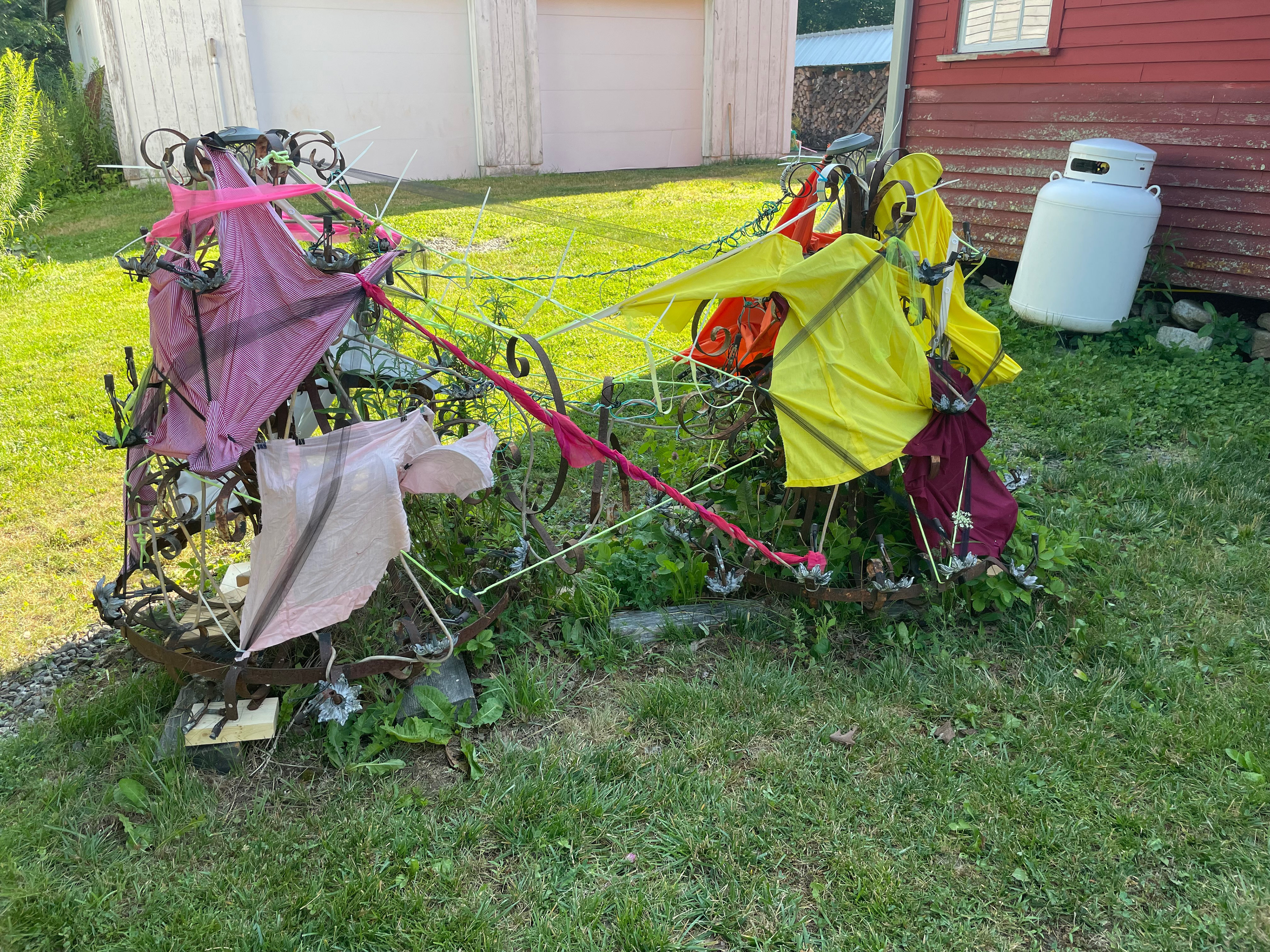 +++
​​​​​​​REVOLUTION - MARCH 2022
27" ROUND X 6" DEEP
+++
LEISURE LOUNGER - DECEMBER 2021
5'X3'X3'
Metal lounger frame, dress, slip, fabric, belts, mesh produce bags, curtains, palm fronds, embroidery, pantyhose, bungie, rope, ribbons, dish towel and pom-pom trim. 
This piece can be displayed on the wall either horizontally or vertically, backwards or forwards, and in several stages of folding and unfolding.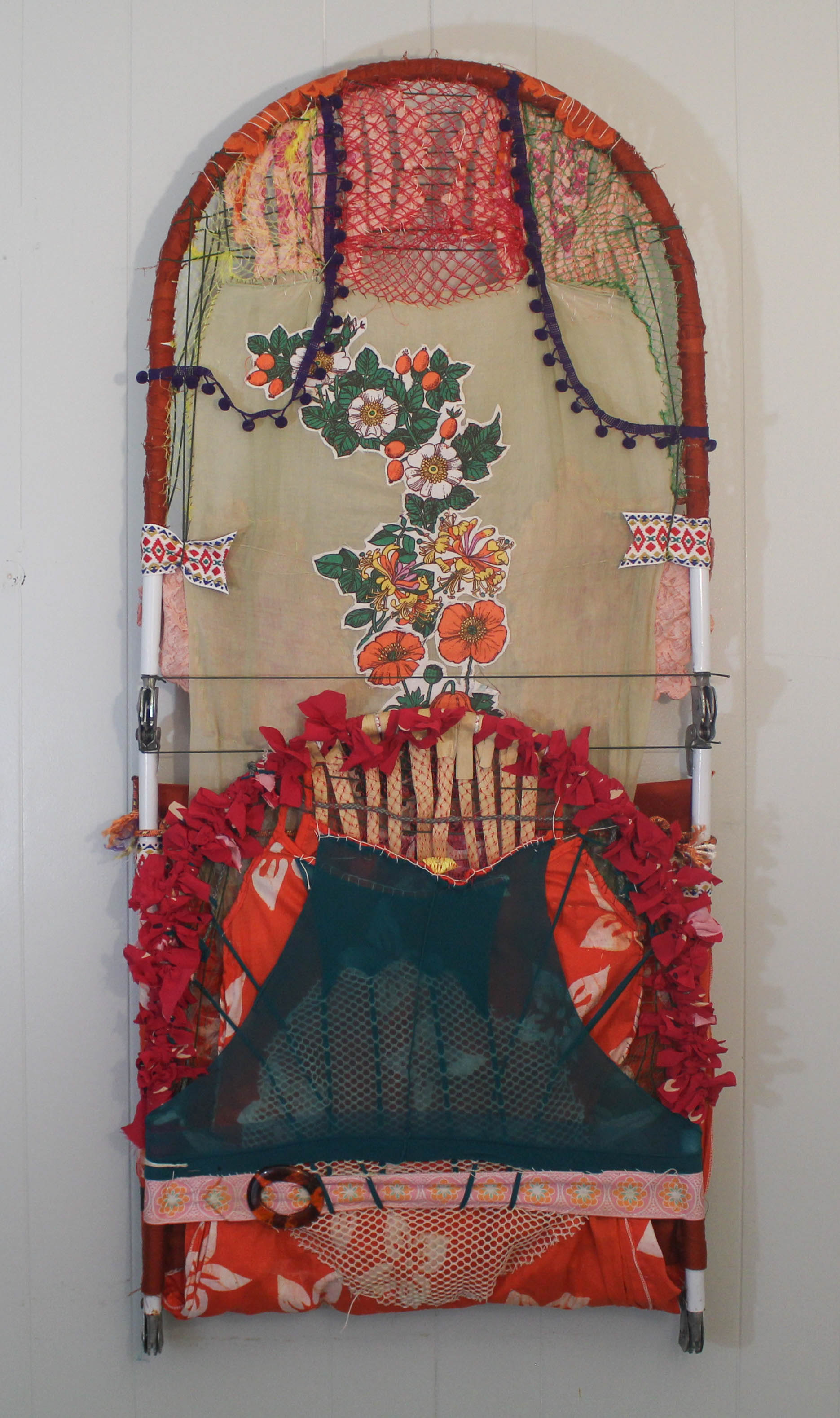 +++
FRESH CATCH - OCTOBER 2021
Aluminum cans, soccer goal mesh, plastic bottles, plastic bags, wire and wood.
+++
PANTS PAINTING - FEBRUARY 2022
Pants, ribbon, belts, chains, shower curtain rings, embroidery, stuffing, bag parts, key chain, rik rak, wire and wood.
This piece can be displayed on the wall either way or free standing. 
+++
EARTHS BEST SUBSTANCE - JANUARY 2022
Dive bag, canvas, acrylic paint, wood.
This piece was created by stretching the bag over canvas supports, cutting canvas into strips, dying them, and then weaving them through the mesh of the bag. It is finished with a wood frame.
+++
STOKE CHOKE TOTEM - JUNE 2022
Foam top surf board, brass rings, lace, ribbon, rope, fabric, beach toys, wool, spray paint, fabric paint, acrylic paint, ink, mesh, tule, embroidery, wire, beads, gorilla glue, spray foam, masking tape and wood.
+++
GIVING AND RECEIVING - NOVEMBER 2021
Canvas, carpet, beads, embroidery, watercolor pencil, acrylic paint, rope and wood.